Chairman: Parpiev Shahzod – Master of 1 course
Secretary: Fatima Abbaskhanova, Master of 1 course
Presidency: professors: Vaisov A.Sh., prof. Akhmedova MD, Ass., Ph.D. Khojaev M.I., Tokhtaev ев.Sh.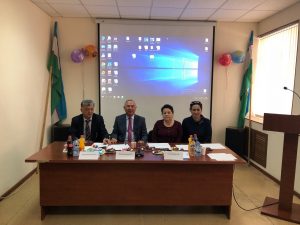 Student Scientific Society began at 14:00 on the basis of the RCMD on March 26, 2019. 12 students from the medical and medical-pedagogical faculties in three areas participated: the Department of Infectious Diseases, the Department of Phthisiology, the Department of Dermatovenereology.  Present: Head. kaf Ph.D. Tashkenbaeva U.A., prof. Vaisov A.Sh., prof. Ismailova G.A., Ph.D. Sadykov A.A., teachers of the department: Nurmatova IB, Ibragimova N.S., Khoshimov F.F., Aliyev A.Sh., Nazarova B.M., prof. Akhmedova MD, Ass., Ph.D. Khojaev M.I., Tokhtaev ев.Sh., dms Djurabaeva M.Kh., ass. Babamatova Kh.M., ass. Anvarova EV, Assoc. Mukhamedov KS, Assoc. Rakhmatullaeva Sh.B., Assoc. Karimov MT, ass. Maksudova G.S. ass. Nazirov Sh. A., Masters 1,2,3 courses, undergraduate students.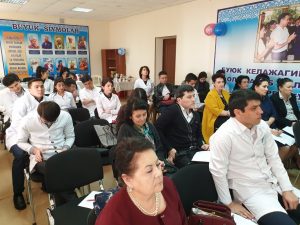 With a welcoming speech, the society was opened by Chairman Parpiev Sh. He said how many students will participate today, also indicated that the time limit will be 7 minutes, and 3 minutes are given for discussion of the presentation. Professor Vaisov A.Sh. He emphasized how important today is to get new information and new knowledge in the field of Therapeutic Sciences. He wished each participant good luck and success in the upcoming reports on the scientific work done. We listened to all the participants, all the reports were very interesting and very informative, the presentations were bright, colorful and the latest technologies were used in the creation of slides.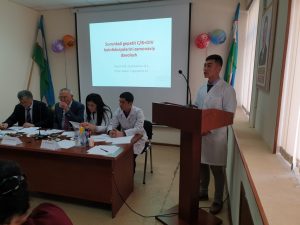 But they differed from all the others, the work of three students who paid special attention to collecting material and data for conducting scientific work, arranging slides, and most importantly, they were able to show the scientific novelty of their work.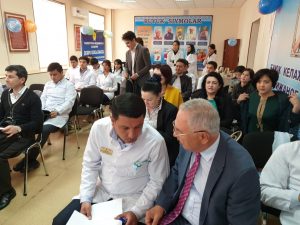 All participants were awarded certificates, and places of honor were received gifts from the Department of Dermatovenereology. The first place was received by a student of 412 groups of the medical faculty. Sobirova S., Makhsetbaeva G. "Clinical case from practice" Leader: Tohtaev Ғ.Sh. Department of Dermatovenereology.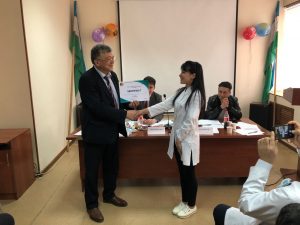 The second place was given to U.I. Makhmudov. medical Faculty Express methods for diagnosing tuberculosis. Leader: Senior Lecturer, Ph.D. Dzhurabaeva M.Kh.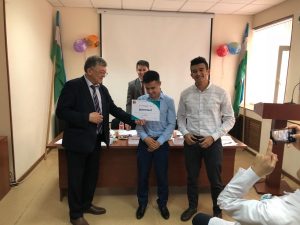 The third place was received by the student of medical faculty 506-A of the Normurodov Aliyor group with the theme: "Hemocolitla of dussenteric clinics of the Husiyatlararini Urganish".  Leader: Assistant Nazirov Sh.A.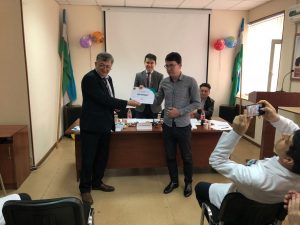 At the end of the student scientific community, all the participants and staff of the department were invited to a tea party, for which they discussed knowledge and admired the scientific work done today. Also photos were taken for memory.